While new technology has enhanced our life, making it easier to study, be exposed to new ideas or learn about far-flung corners of the world at the touch of a button, it also has its drawbacks. It's now all too easy to spend a large chunk of the day staring at a screen, without interacting with friends, family or nature in the present moment.  
At ACON, we want to encourage families to explore the world without screens. Our mission is to engage kids in fun, joyful physical activities. Steering kids away from screens is what we aim for, and, whilst doing that, we want to promote a healthy and fun way of staying active.

So, we've put together a list of 100 things you can do without your phone. We think that's more than enough ideas to give your brain a rest from social media, while taking part in activities that are good for your mental and physical health! So read on, get inspired and give yourself (and your brain!) a break from your phone, for a set time each day.
How to Spend Less Time on a Phone - 100 ideas
Read a Book  
No Kindles allowed! Feel the pages of a real book as you turn them.
Speak to a Friend 
Arrange to see a friend and speak in-person. No phones allowed!  
Spring Clean 
Give your home an all-over, spring clean. Make a list of what needs to be done in each room and tackle them one at a time. 
Take a Walk 
Take 10 or 20 minutes for a walk around the block, distraction and phone-free. 
Fly a Kite 
Throwback to your childhood, go outside and fly a kite.  
Play Frisbee 
Make a date with a friend or relative to go play frisbee for an hour. 
Spend Time with a Pet 
Cuddle your pet and show them some love. Walk your dog, play with your pet. 
Volunteer 
Discover opportunities to volunteer in your local area. Look to the nearest animal shelter, old folks' home or soup kitchen, many look for volunteers. 
Garden 
Spend time in your garden. Tend to flowers, pull weeds or mow the lawn.

Donate Unwanted Items 
Take all of your unwanted or unused household appliances and goods to a donation center. 
Plant a Tree 
Get outside and plant a tree in your backyard! If you live in an apartment block without green space, find a place you can volunteer to plant trees. 
Tidy a Cupboard 
Tidy a cupboard in your kitchen, arrange the items, and throw out anything past its sell-by date. 
Take a Bath 
Take a long bath, light candles, or an essential oil diffuser. Relax with music in the background. 

Write  
Get a fresh notepad and begin to journal. Journaling has benefits for your mental health. You can do journaling anywhere you feel comfortable - at home, cafe, in a park, or in your own yard.

Vintage Shop 
Look up the vintage or second-hand shops nearby and plan a visit. Bring a friend, try on clothes for fun, and find a bargain!

Play  
Play make-believe with your kids, have fun with water guns, see who can do the most somersaults on an Airtrack, or try a game of Uno to see who will be the winner.  
Jump on a Trampoline 
Jumping on a trampoline is loads of fun, helping you to relax and de-stress, forgetting the worries of the day. Try one of The Best Trampoline Games. 
Meditate 
Spend at least ten minutes in silence, focusing on your breath and listening to the sounds around you, on a yoga mat or other comfortable spot. This helps to make you more present with the sensations in your body. Observe your thoughts. Practice mindfulness.  
Closet Clear 
Clear out your closet. Be honest, how much do you wear certain items of clothing? If it's not for a special occasion and it's gathering dust, donate it. And while you're at it, engage your kids to the closet clear, too!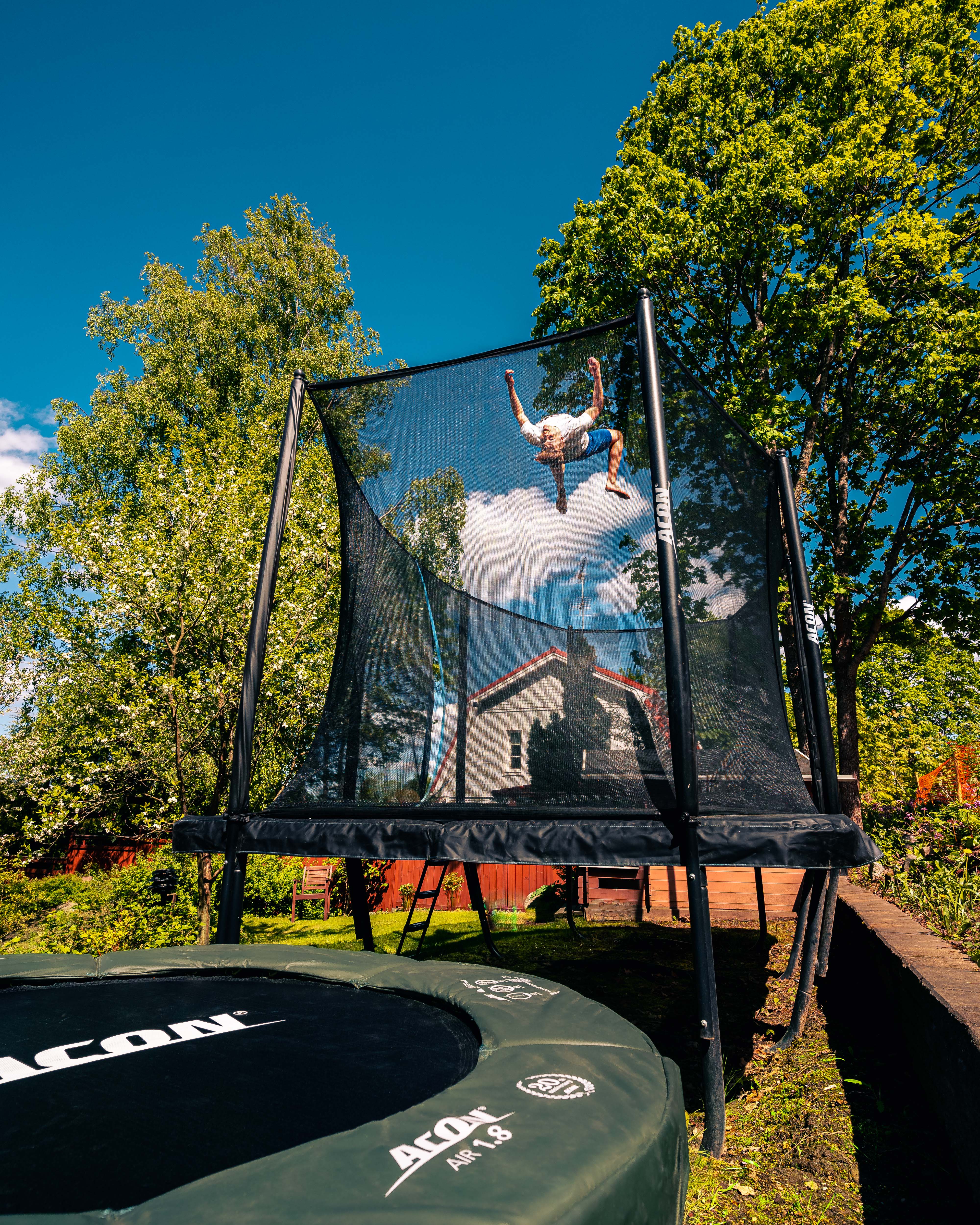 Market 
Discover the nearest farmers market, antique market, or flea market near you and spend some time browsing the items on offer.  
Spend Time Alone 
Spend some time alone, without any activity planned. Sit with the boredom and see what ideas emerge. 
Take Care of Plants 
Discover the best ways to teach your kids how to take care of your house plants by re-potting and watering them. 
Cook 
Cook a new recipe using an actual cook book.  
Recycle Old Belongings 
Recycling is a great way to get rid of stuff you don't need. Take old books, clothes, furniture, or household items to the nearest second-hand store or donate them to charity. 
Print Photos and Scrapbook 
Print your phone photos to make 3D versions, and spend an afternoon scrapbooking. 
Paint 
Paint or watercolor and let your inner artist shine.
Draw 
Prefer drawing over painting? Practice sketching or drawing something, without a plan. See what captures your attention in your environment and give drawing it a go. Or you can experiment with chalk by drawing with it on the pavement or even on a trampoline mat!
Collect 
Find something you like and spend time collecting. For example shells, game cards, crystals, stamps, stones, candles, magazines, model cars, or trains. 
Wander 
Get a real map and wander around a new town or city without your phone. See what you discover along the way!  

Bike 
Take a bike ride around your neighborhood, park, or a trail. 
Mend Clothes 
Gather together your clothes that are in need of TLC. Take note of how to mend them and spend a few hours fixing them. 
Visit a Library or Bookstore 
Find the nearest library and go there to read some real books. Discover new authors, and ask librarians for their recommendations. Or, if you prefer to read somewhere else, you can always get a library card, borrow a few books and go to read them to your favorite place.
Visit a Museum or a Gallery 
Find an exhibit you and your kids would like to see or visit your local museum or gallery. It can turn into a great learning experience!
Take a Drive 
Take a drive, playing your favorite music. Take some friends and make it a phone-free road trip. Pack all the supplies you need before you leave! Discover somewhere new. 
People Watch 
Go somewhere alone for lunch or dinner, and people watch. 
Fix Something Broken 
Find instructions to fix that broken item in the house and spend time doing so. You can also teach your kids about the value of items by choosing to fix them instead of always buying new items to replace old ones.
Cook for Friends and Family 
Do your kids love to participate in cooking? Host friends and family for a phone-free dinner party where your kids' talents may shine! 
Hold a Coffee Morning 
Want to do something good for the community? Hold a tea or coffee morning for the charity of your choice, to raise funds for a worthy cause. 
Start a Book Club 
What better way to teach your kids about the value of books and reading than starting your own book club! Make it fun by changing the location where the meetings are held; a makeshift tent in your living room, on a trampoline, in an attic, in the park... options are endless! 
Run
Map a route or see where the mood takes you. 
Crossword or Sudoku 
Who said that crosswords are only for old people? Practice a crossword or sudoku puzzle to improve your focus.
Take Real Photos 
Get out and about with a real camera, and take real photos. Get them developed and make albums/scrapbooks.
Shoot Hoops 
Shoot basketball hoops alone or with friends and family. Tip! You can also do them on a trampoline. See how!
Jigsaw 
Boost your concentration and attention with a jigsaw puzzle.
Brainstorm Your Best Ideas 
From a simple lemonade stand to a complex business plan. Do you have ideas for businesses or ways to improve your life? Sit down and write out your best ideas with your kids. They tend to have creative, (actually) new ideas!
Learn an Instrument 
Has your kid picked up an instrument? Engage in this new hobby with them and take up playing an instrument. Your child will appreciate it!
Take a Hike 
What better way to explore the nature than hiking! Find a trail and take a hike in nature.
Read Magazines and Newspapers
Have your kids and teens always read everything in digital format? It's time to explore the physical copy! Find newspapers and magazines that everyone enjoys and read a 3D copy. 
Coffee Shop 
Need some alone time? Try a new coffee shop, treat yourself to something sweet and journal, read a book, or people-watch! 
Play a Podcast 
Okay, this may require you to be engaged in some digital appliances for a moment, but keep it minimal - play and pause. Listening podcasts can be relaxing, educational and fun. Get recommendations from friends, sit on the couch, and relax while learning something new. 
Stargaze 
Go outside in the evening when it's a clear night and gaze at the stars. This is a great one to do on your trampoline – place duvets and pillows on it, then lie back and look up!

Make a Date 
Make a date with a friend or relative. Plan an activity you can do together to make new memories. 
Go to A (Kids') Festival 
Summer is the season of festivals! Look up local or international festivals that are suitable for the whole family and attend one. You won't have time to consult your phone there!
In-Person Events 
Festivals aren't the only in-person events happening! Search online for what's happening in your area and make new connections for instance with parents in your area.
Re-arrange A Room 
Did the oldest one move out or do your kids need more space? Change the furniture around in one room in your house, give it a tidy, and make a list of items you can give away or that you'd like to buy to change the look and feel. 
Buy or Make Gifts
Browse the shops for a small gift to give a friend or a family member, just because. Or, even better, make one!
Write Cards 
Write a thank you card to someone special. Make a list of any upcoming birthdays, anniversaries, or events that you need to make cards for. Let your kids help you in designing and creating unique cards!
Foster an Animal 
Have you considered getting a pet for the family? See if your local animal shelter needs foster parents for recovering animals, or animals awaiting adoption. This is an opportunity to take care of and play with an animal while also teaching responsibility to the little ones.
Take a Nap 
Sometimes it's just best to give yourself a break and take a daytime nap. 
Make a Gratitude List 
Sit down and write a list of all the things you're grateful for in life. 
Join a Community 
Find a local or national community with a shared interest and join it, take part in in-person meetups, and foster new connections. 
Picnic in the Park 
Take a picnic in the park with a friend, family member, pet or solo.  
Go Dancing 
Arrange to go dancing for a night with a friend. Take a ballet class. Or, when you're home play your favourite music and dance around the room of your choice!  
Forest Bathe 
Go to the forest and as you're walking, breathe in the fresh, clean air. 
Roller Blade 
Grab your skates and find a park or promenade where you can rollerblade. 

Go Bowling 
Gather friends and take a trip to the bowling alley for some fun. 
Pottery 
Take a pottery class to learn how to make items for your home, or simply to play with the clay while learning a new skill!  
Visit a Spa
Go to the sauna, or steam room, for a facial or massage. Try treatments like acupuncture or reiki to help relax and unwind. 
Host a Games Night 
Host a no-phones games night with board games and card games for your family. Make sure that you choose games that are suitable for all family members.
Write a Letter 
Sit down and write a letter to someone you love, telling them why you think they're amazing.
Baby-sit or Pet-sit 
Offer to babysit or pet-sit for a friend or relative so they can enjoy a day or night out.  
Clean the Car 
Spend bonding time with your teens by asking them to clean the car with you.
Make a Dream-list 
Make a list of all the things you'd like to do if money was no object. Afterwards, brainstorm small-scale ways to take steps towards these dreams. Don't hold back!  

Learn a Language 
Learn a language the old-fashioned way, using books and listening to audio material. 
Go to a Concert 
Go see live music and get caught up in the atmosphere. Make a rule that you won't take your phone out during the show. Whether it's a stadium or an intimate venue, you'll forget all about it.

Visit the Arcade with the Family
It's time to get nostalgic and show your kids what kind of games you loved as a teen! Visit the local arcade to play both old and modern arcade games.
Go to the Beach 
Going to the beach doesn't have to be a sunny day! Although it does help. Hearing the waves and smelling the sea salt air is good for your mood and happiness levels. 
Make a Holiday Bucket-list 
Sit down and make a list of the destinations you'd like to go visit or what you'd like to do during your holiday. Perhaps learning a somersault, starting rebounding or learning how to meditate?
Workout 
Practice your favorite workout or fitness routine without a screen, and see what you can remember. Do reps of 12, for 3 sets of each exercise. Get inspired with our Top 6 Trampoline Exercises for Core article or have a look at our fitness and gymnastics gear for home.
Visit a Theme Park 
Organize a fun day with friends or your kids at the theme park. Ride the rides and eat cotton candy. 
Color
Get a coloring book for everyone in the family and relax as you fill it in.
Landscape 
Take time to landscape your backyard. Get inspired online, plan your activity then spend phone-free time implementing your ideas. If you have a trampoline, we recommend you to see our blog post of Trampoline Landscaping and Decoration Ideas before you get started!
Practice a Cartwheel or Headstand 
Take the time to practice the stretches and strength-building exercises you need to perfect a cartwheel or headstand. Use gymnastics mats or Airtracks for supported landings. 
Learn to Bake Something 
Baking is a skill. Learn to bake your favorite sweet treat from childhood or ask friends for theirs! 
Organize Your Spice Rack 
Take the time to organize your spice rack, make a list of any missing spices you need then go to your nearest market to find them.

Go to the Park 
Spend time in nature, or take a trip to your local park where you can read, write or people-watch. 
Try Origami 
Swans, lions, stars, and hearts. Have a go at origami, learn to make shapes out of paper. Origami is a perfect family activity for a rainy day!
Barbecue 
Invite your friends, family, and neighbors for an outdoor, no-phones barbecue. Your kids can enjoy trampolining and learning cartwheels while adults can socialize together.
Organize Your Clothes 
Open your drawers and organize where you keep and put different kinds of clothes. Fold all items of clothing properly and iron anything that needs it. 
Try a Gym Class 
See what classes are happening at your local gym, try something new, or go back to an old favorite.  
Go Camping 
See how long you can survive in the wilderness without using your phone! Get your friends or family together for a camping trip. Cook outdoors, stargaze, or make s'mores. 
Build a Treehouse 
Get instructions then get to work to build an outdoor treehouse. Your kids will absolutely love it!
Go to a Comedy Night 
Spend a night laughing with the people you love at a comedy show. 
Tidy Your Shed 
Organize the tools and items in your shed and create a system so you know where you need. 
Make Candles 
Purchase a candle-making kit and learn how to make your own at home.  
Crochet, Embroidery, Knitting 
Learn a craft like crochet, embroidery, or knitting and you won't have time to miss your phone. 
Try rebounding 
Rebounding is a form of exercise where you jump on a mini trampoline. Suitable for all fitness levels!
Self-Care  
Enjoy a homemade face mask, give yourself a home manicure-pedicure, or a foot bath with Epsom salts. 
Jump Rope 
Get a skipping rope and practice this workout in your backyard. Enjoy a fun and challenging workout that'll get your heart rate up. 
Summary 
There is no shortage of ways to spend time without phones involved. Practice putting your phone down at the same time each day and you'll build a habit that becomes automatic, with repetition. You can vary the activity itself, but having a dedicated no-screen time (or hour) will help make it an easier switch.
Using any or many of these activities that you can do without your phone will positively affect your health and relationships. We've also looked at Spring Activities for Kids and 50 Fun Things to Do On a Trampoline for even more ideas.
Whether you implement these activities in the morning, evening, or at weekends, try them for yourself—your body and mind will thank you!