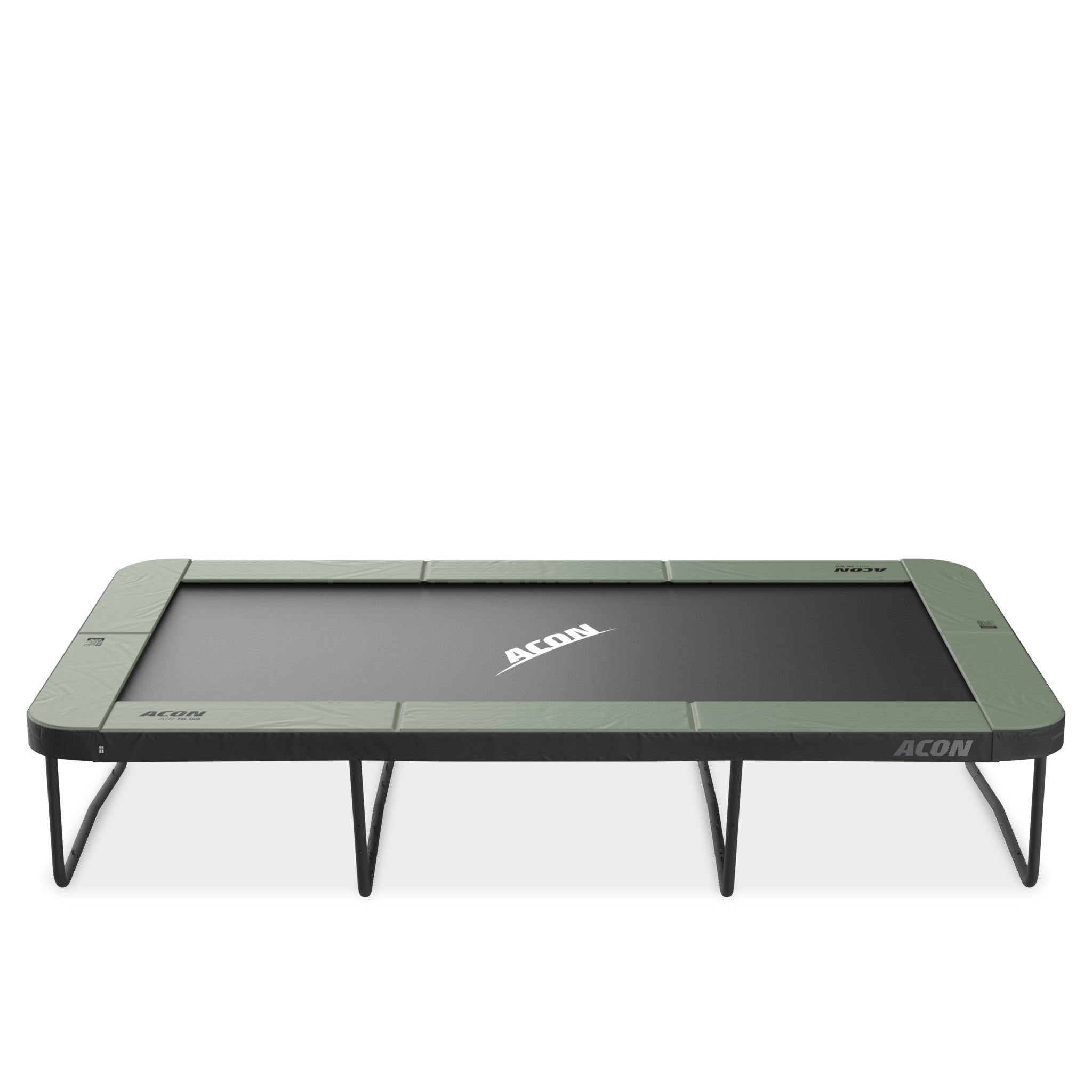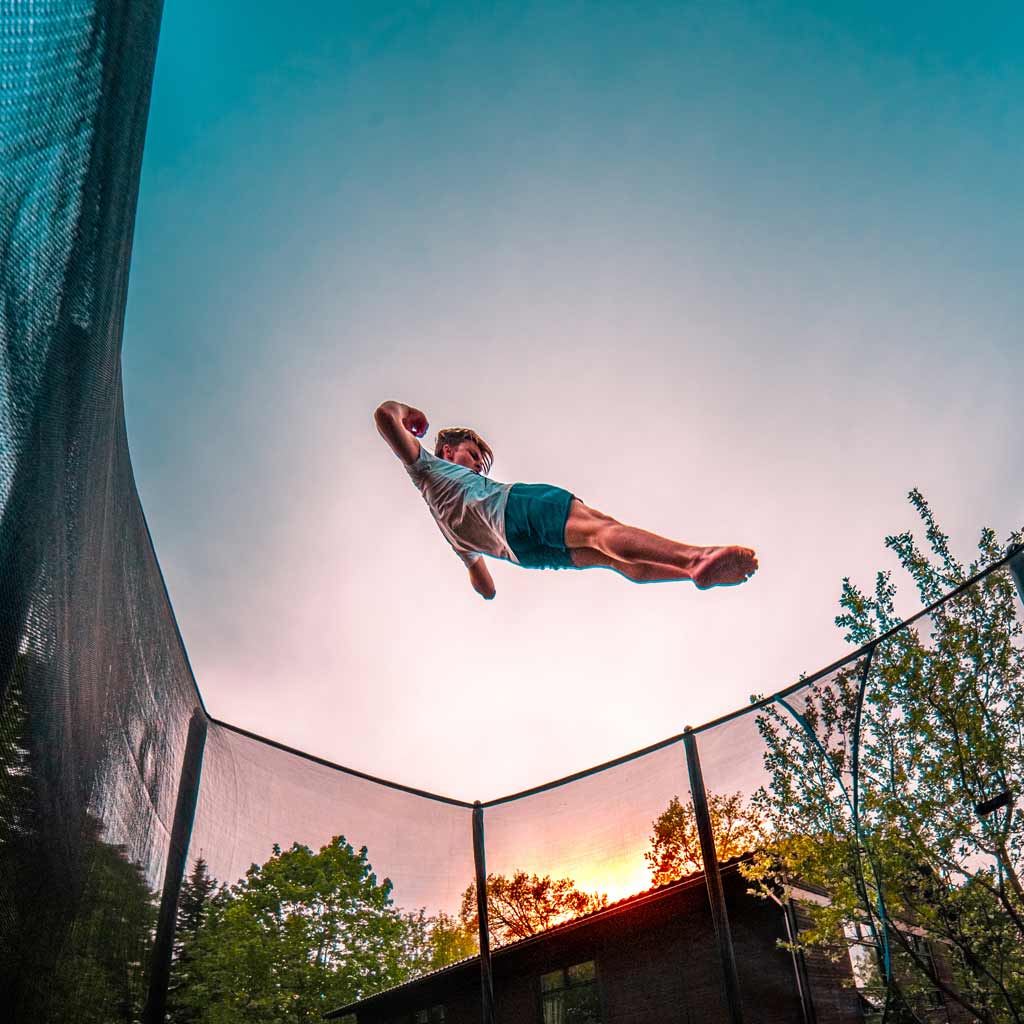 ACON Air 16 Sport HD
Rectangular Trampoline
View shipping time and cost
Meet the next generation of Air, Acon Air 16 Sport HD
Bring home the pinnacle of outdoor performance with Acon Air 16 HD Sport. Performance reaches a new peak thanks to intelligent enhancements that keep our flagship model at the top of its game. New X-Series springs elevate the best bounce in the world to even higher levels. Enjoy thoughtful styling, a sleek, contemporary two-tone color combination and delightful design details. Engineered to be our quietest model ever, so the sounds of nature surround you, and not those of your springs.
You truly can't get any higher than with the Acon Air 16 HD Sport.
Read more
Product Specs
Mat
Size 171x86in
Cross-sewn polypropylene
10 row stitching
UV-treated
Springs
Galvanized steel
140 pcs
Length 10 in
Spring Pull Tool Included
Padding
Thickness 1.4 in
Thick vinyl cover
Width 15.5 in
UV-treated
Size
16.7 x 9.5 ft
Frame height 42 in
Package size
Package1: 72" x 29" x 7", 204 lb
Package2: 72" x 29" x 7", 219 lb
Height
42 in
Product weight
400 lb
Content
ACON Air 16 Sport HD Trampoline (frame, mat, springs, safety pad)
ACON Air 16 Sport Ladder
Needed assembling tools
Spring Pull Tool
Graphical instructions
Usage
Advanced skills
Warranty
10 years for the frame
5 years for the springs
5 years for the jumping mat
2 years for other mat components
2 years for the safety pad
1 year for the ladder
Other info
For year-round use
Weight limit
No Single Jumper Weight Limit
FAQ
How much weight can a 16 ft trampoline hold?
Acon trampolines are designed for both kids and adults to enjoy. Our flagship 16 HD trampoline has no single user weight limit, so anyone can jump with ease. Acon guidelines recommend only a single jumper on the mat at a time. For non-jumping activities such as sleepovers or watching movies, multiple people can enjoy the trampoline mat.
How big is a 16-foot trampoline?
The Acon 16 Sport HD trampoline measures 17ft long by 10ft wide and is 11ft high with its safety enclosure. The company recommends at least three feet of clearance space around the trampoline in your backyard.
How many springs are on a 16-foot trampoline?
The Acon 16 Sport HD has 140 springs that connect the trampoline mat to the heavy-duty frame.
How long are springs for a 16-foot trampoline?
All of the 140 springs of the Acon 16 Sport HD are 10" long and are made of galvanized steel.
How to install an Acon air 16 trampoline?
Assembling an Acon trampoline is hassle-free thanks to straightforward and easy to understand instructions. Begin by assembling the metal frame. Next, attach the mat to the frame by connecting the springs, using the included spring pull too. Finally the safety pads are added, along with the safety enclosure.
How to move a 16-foot trampoline (5m)?
For instances of small moves, like when the grass around the trampoline needs to be cut, simply take off the enclosure and use enough man power to push it to a new spot. If the backyard space needs to be cleared, requiring a long distance shift, we recommend taking it apart.
Can this trampoline be installed in-ground?
Yes, rectangular trampolines can be installed in-ground. However, it's important to note that the Acon 16 Sport HD trampoline warranty does not cover in-ground use. Some customers have still installed their trampolines in-ground with good results.
Find your size
| | | | | | | | | | | | | | | |
| --- | --- | --- | --- | --- | --- | --- | --- | --- | --- | --- | --- | --- | --- | --- |
| | Model | | Safety | | | | | Size | | | | Springs | | |
| | 6ft | Fun jumping | 6ft | 220 lb | 1100 lb | 220 lbs | N/A | 6ft | 18 in | 61 lb | 1.5 in | 6ft | 48 | 7 in |
| | 10ft | Ideal starter trampoline | 10ft | 265 lb | 1300 lb | 265 lbs | Standard | 10ft | 30 in | 108 lb | 1.5 in | 10ft | 64 | 7 in |
| | 12ft | Good size for smaller yards | 12ft | No Single Jumper Weight Limit | 1650 lb | 330 lbs | Standard and Premium | 12ft | 35 in | 170 lb | 1.65 in | 12ft | 80 | 8.5 in |
| | 14ft | Room for the whole family | 14ft | No Single Jumper Weight Limit | 1650 lb | 330 lbs | Standard and Premium | 14ft | 35 in | 205 lb | 1.9 in | 14ft | 96 | 8.5 in |
| | 15ft | Our biggest round model | 15ft | No Single Jumper Weight Limit | 1650 lb | 330 lbs | Standard and Premium | 15ft | 35 in | 230 lb | 1.9 in | 15ft | 110 | 8.5 in |
| | 13ft | Versatilty for all ages | 13ft | No Single Jumper Weight Limit | 1650 lb | 330 lbs | HD Safety Net | 13ft | 42 in | 350 lb | 2.4in | 13ft | 108 | 10 in |
| | 16ft | The premium jumping experience | 16ft | No Single Jumper Weight Limit | 1650 lb | 330 lbs | HD Safety Net | 16ft | 42 in | 400 lb | 2.4 in | 16ft | 140 | 10 in |