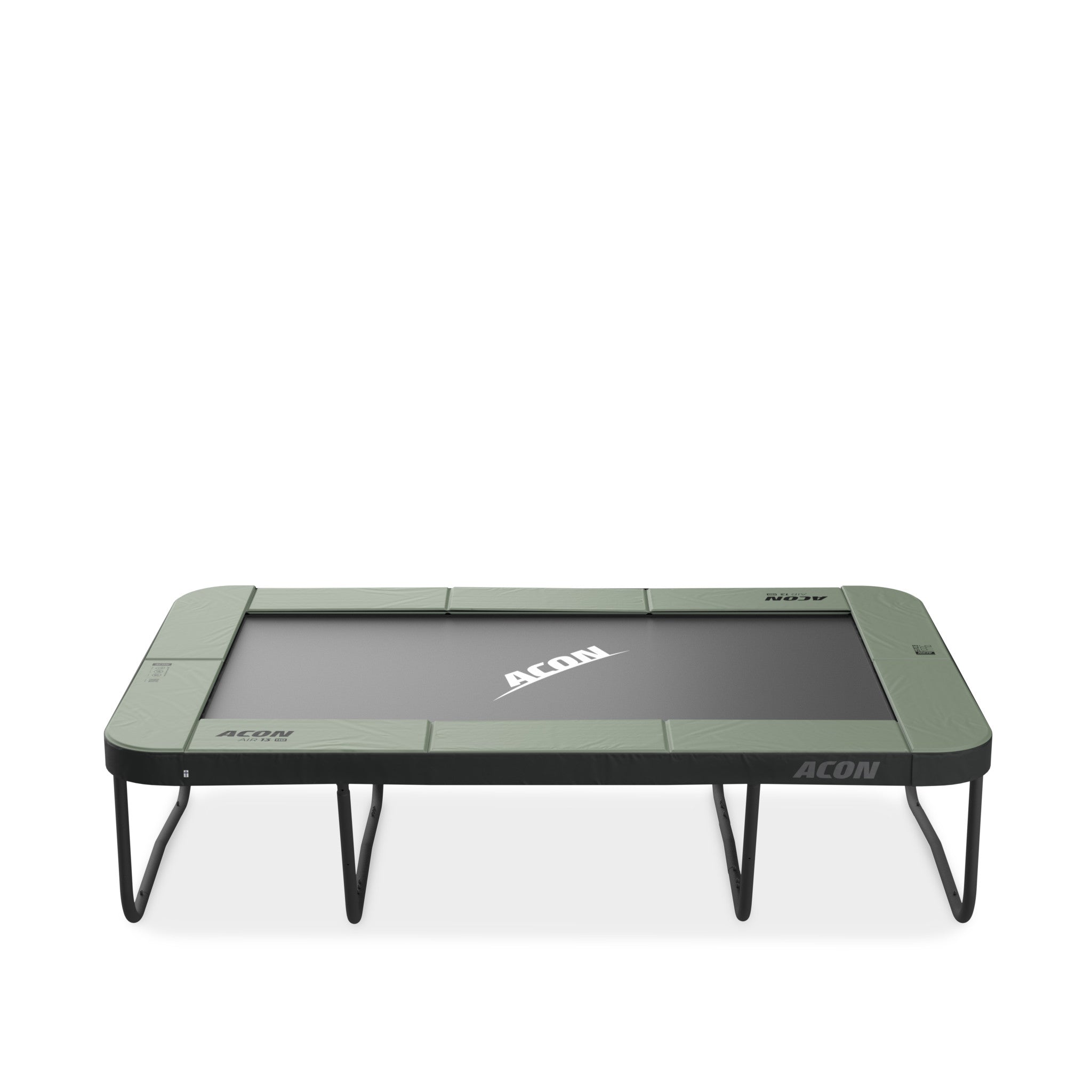 ACON Air 13 Sport HD
Rectangular Trampoline
View shipping time and cost
Give your trampoline routines a new runway with the Acon Air 13 Sport HD Trampoline (with Ladder). Our incomparable rectangular trampoline is now available in a size friendly enough for almost any backyard. The Synergy Design technology reaches new heights with our all-new double-layer bounce system that gives leapers the choice to choose a bounce that's just right for them.
We listened to customers like you to build this new trampoline with everything you want for an inspiring jumping experience. Safer, thanks to adjustable, heavy-duty safety pads that keep feet from springs. Smarter, with X-Series springs for 10% better bounce. Sleeker, with a stylish ACON Garden Green two-tone color pattern for a bold look.
Read more
Product Specs
Mat
Size 130x72in
Cross-sewn polypropylene
10 row stitching
UV-treated
Spring protection safety skirt
Springs
Galvanized steel
108 pcs
Length 10 in
Spring Pull Tool Included
Padding
Thickness 1.2 in
Thick vinyl cover
Width 16 in
UV-treated
Size
Length x width: 13 x 8.2ft
Frame height 3.4ft
Package size
Package 1: 60" x 30" x 70", 188 lb
Package 2: 60" x 30" x 70", 184 lb
Height
42 in
Product weight
350 lb
Color
Frame: Black
Padding: Garden Green
Content
ACON Air 13 Sport HD Trampoline (Frame, mat, safety pad, springs)
3-step ladder
ACON HD Anchor kit (incl. 2 anchors)
Needed assembling tools
Spring Pull Tool
Trampoline user manual
Graphical instructions
Usage
Intermediate skills
Warranty
10 years for the frame
5 years for the springs
5 years for the jumping mat
2 years for the safety pad
1 year for other parts
1 year for the ladder
Other info
For year-round use
Weight limit
No Single Jumper Weight Limit
FAQ
How many springs does a 13 ft trampoline have?
The Acon 13 Sport HD has 108 springs that connect the trampoline mat to the heavy-duty frame. All of the 108 springs are 10" long and are made of galvanized steel.
How to put together a 13-foot trampoline?
Assembling an Acon trampoline is hassle-free thanks to straightforward and easy to understand instructions that come with the package. Begin by assembling the metal frame. Next, attach the mat to the frame by connecting the springs, using the included spring pull too. Finally the safety pads are added.
How much space do I need for a 13 ft trampoline?
The Acon 13 Sport HD measures 13.5ft long by 10.5ft. Acon recommends at least three feet of clearance room around every edge of the trampoline. Any space that's roughly 19ft x 16ft would give to the room you need for a 13-foot trampoline.
How much does a 13-foot trampoline weigh?
The Acon 13 Sport HD, which includes the trampoline, ladder, and anchoring stakes, weighs 350 lbs.
Is this size good for small kids/teens?
A 13ft rectangular trampoline is great for both small kids and teens. The large jumping surface gives young kids plenty of room to safely jump and land, while growing teens can enjoy the premium bounce as their skills increase.
Can rectangular trampoline be installed in-ground?
Yes, rectangular trampolines can be installed in-ground. However, it's important to note that the Acon 13HD Sport trampoline warranty does not cover in-ground use. Some customers have still installed their trampolines in-ground with good results.
Find your size
| | | | | | | | | | | | | | | |
| --- | --- | --- | --- | --- | --- | --- | --- | --- | --- | --- | --- | --- | --- | --- |
| | Model | | Safety | | | | | Size | | | | Springs | | |
| | 6ft | Fun jumping | 6ft | 220 lb | 1100 lb | 220 lbs | N/A | 6ft | 18 in | 61 lb | 1.5 in | 6ft | 48 | 7 in |
| | 10ft | Ideal starter trampoline | 10ft | 265 lb | 1300 lb | 265 lbs | Standard | 10ft | 30 in | 108 lb | 1.5 in | 10ft | 64 | 7 in |
| | 12ft | Good size for smaller yards | 12ft | No Single Jumper Weight Limit | 1650 lb | 330 lbs | Standard and Premium | 12ft | 35 in | 170 lb | 1.65 in | 12ft | 80 | 8.5 in |
| | 14ft | Room for the whole family | 14ft | No Single Jumper Weight Limit | 1650 lb | 330 lbs | Standard and Premium | 14ft | 35 in | 205 lb | 1.9 in | 14ft | 96 | 8.5 in |
| | 15ft | Our biggest round model | 15ft | No Single Jumper Weight Limit | 1650 lb | 330 lbs | Standard and Premium | 15ft | 35 in | 230 lb | 1.9 in | 15ft | 110 | 8.5 in |
| | 13ft | Versatilty for all ages | 13ft | No Single Jumper Weight Limit | 1650 lb | 330 lbs | HD Safety Net | 13ft | 42 in | 350 lb | 2.4in | 13ft | 108 | 10 in |
| | 16ft | The premium jumping experience | 16ft | No Single Jumper Weight Limit | 1650 lb | 330 lbs | HD Safety Net | 16ft | 42 in | 400 lb | 2.4 in | 16ft | 140 | 10 in |