Trampolines are made up of several parts and materials, each with their own form and function, that need to be considered separately when you're recycling or upcycling. Maybe your model is still in great condition and you'd like to sell it on, but it needs a little work or some TLC before it's ready.  
Sustainability is a core value at Acon, so we've put together a list of everything you need to know to responsibly pass on your old trampoline – whichever way you choose.
In this article, we discuss: 
Recycling Tips
Upcycling Tips
Selling Tips
FAQ
How To Recycle A Trampoline: A Part-by-Part Guide
As we've touched on, the parts of a trampoline are made up of different materials. As such, the recycling recommendation for each will vary.

Below this paragraph is a table guideline to help clarify the most common trampoline part materials. Please note that this table is applicable to ACON trampolines. If your trampoline is by other manufacturer, see this as a general overview and contact your trampoline manufacturer directly for more detailed information.
Trampoline recycling table by ACON
Trampoline Part
Material
Recommendation
Frame
Galvanized steel
Metal
Mat
Mat: Polypropylene (PP)
Metal D-rings: Metal 
Metal
Springs
Spring steel
Metal
Enclosure
Enclosure: Polyethylene (PE)
Poles: Galvanized Steel
Pole sleeves: PVC
Pole padding: EPE-foam 
Enclosure: plastic
Poles: metal
Pole sleeves: plastic
Pole padding: mixed waste

Padding
Padding cover: PVC 
Padding foam: EPE-foam
Padding cover: Plastic
Padding foam: mixed waste
*Always check and recycle according to your local recycling guidelines

All of the products in Acon's range are tested against harmful chemicals, and we can guarantee none of our products contain any harmful chemicals or materials. 

What's more, Acon's trampolines are 99,5% recyclable. This is because sustainability is at the heart of Acon's values: Acon makes premium quality trampolines that last for a long time. Given the right care, it's not a stretch to say that an Acon trampoline can last for decades. This is where Acon trampolines differ greatly from more generic budget trampolines.

The above table is a recycling guide for Acon trampolines and naturally, the materials may differ depending on where you live and where the trampoline originally came from. Check the policies of your recycling center before arriving, to make sure they can take each of the parts off your hands. The center may want to advise you on exactly how to break down your trampoline so they can accept it.

If there are pieces it's not possible to recycle at your local center, make a plan for how you'll repurpose them: can you upcycle or sell them instead, for example.
How to recycle trampoline springs?
Trampoline springs are hardy, as they must support the weight of bouncing. Most recycling centers accept metal springs, but it's wise to give them a call to check in advance so you don't make a wasted journey.

Occasionally you could consider selling your springs to the scrapyard if the weight is sufficient. Sometimes bungee rope springs are used to make certain types of trampoline springs too. These, unfortunately, are not suitable to be recycled.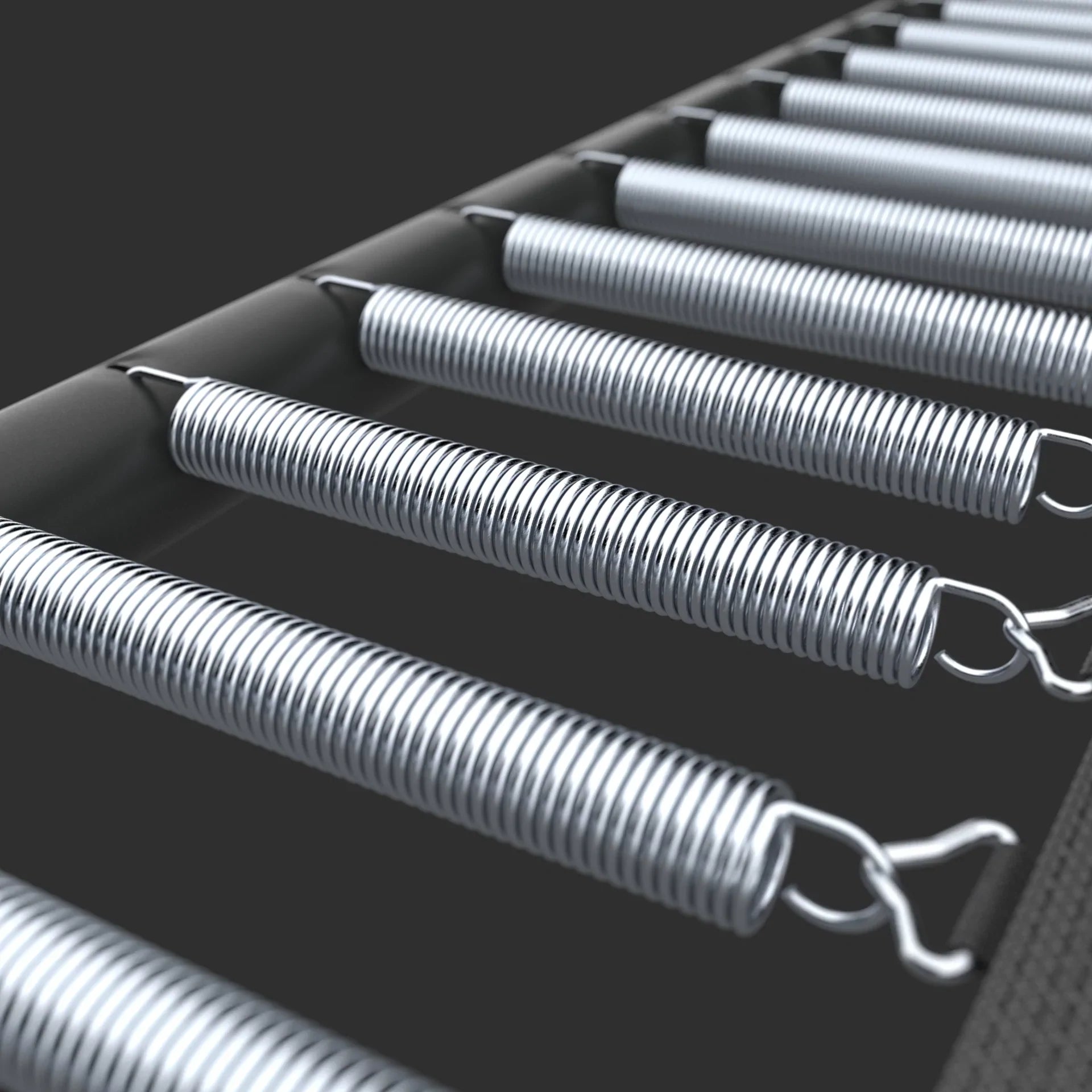 How to recycle trampoline mat?
Trampoline mats consist of woven fiber. Depending on the type of fiber, you can recycle your mat easily. Polypropylene woven fiber is easy-to-recycle, as it contains plastic, therefore recycling is the most effective way to guarantee the material is safely handled after you give up your old trampoline.

A second type of woven fibers used to make trampoline mats is Nylon. Again, nylon contains plastics that make recycling the best option. Calling your recycling center in advance to double check they accept polypropylene or nylon (depending on what your mat is made of) will save you time and effort in the long run.
How to recycle trampoline frame?
Acon's trampoline frame is made from galvanized steel. The galvanization helps with corrosion and rusting, giving it resilience in the face of ever-changeable weather conditions.

The metal can be brought to a recycling center that accepts it, or else it's easy to recycle your trampoline frame by taking it to your nearest scrapyard. Check if your frame meets the minimum weight that your nearest scrapyard will accept, and make some extra pocket money.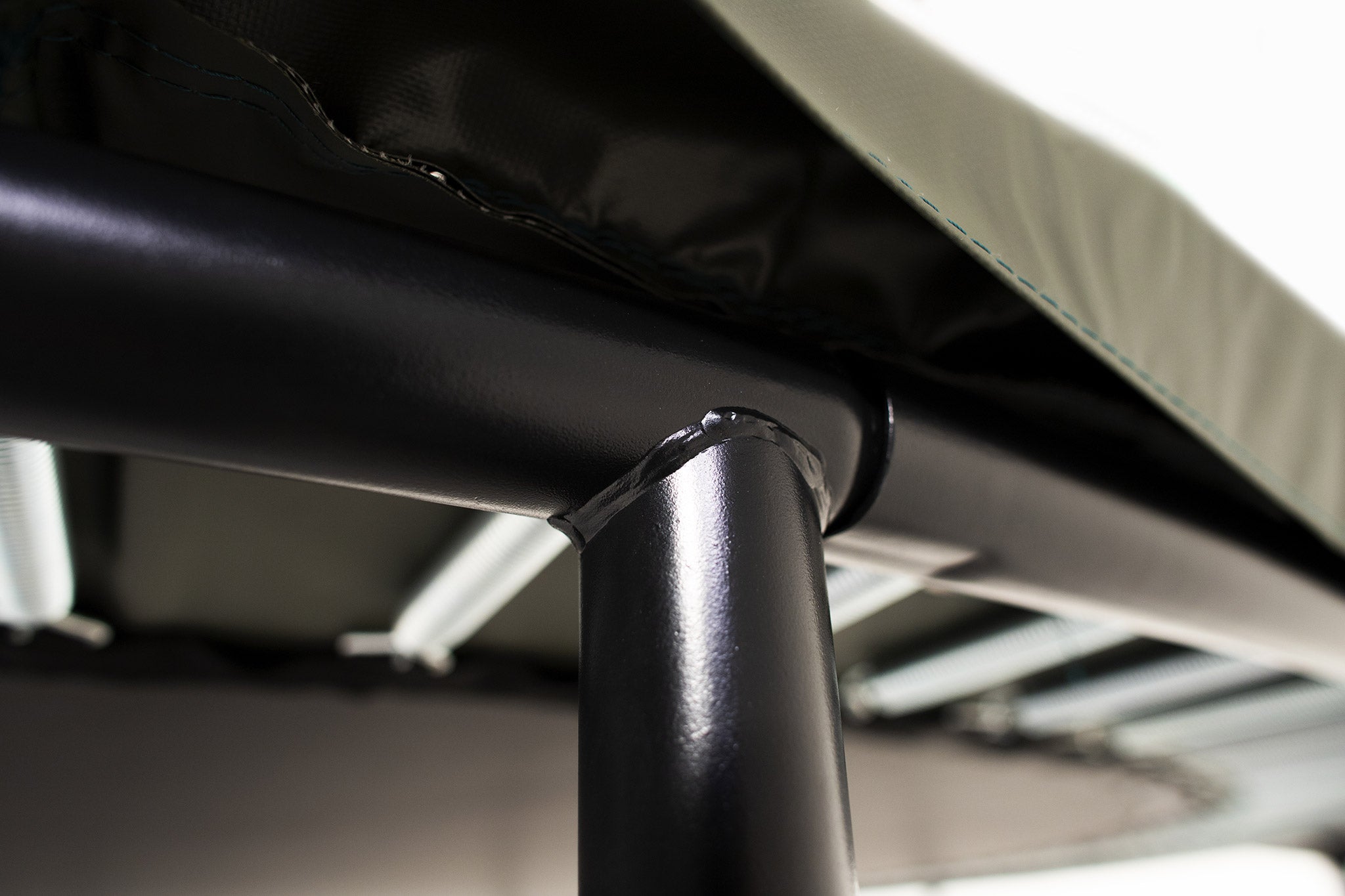 How to recycle trampoline safety net and poles?
The trampoline netting and the poles, their sleeves and padding are each made from separate materials. Keep this in mind when opting to choose your nearest recycling center, as they may not accept each material.

Again, preparation is key! By getting in touch ahead of time, you can verify if the center accepts each material and if they don't, you can make a new plan for the leftover materials to keep your changeover sustainable.
How To Upcycle? Trampoline Repurposing Ideas
Maybe the traditional route of recycling doesn't appeal to you, or perhaps your local recycling center doesn't accept one or more of your trampoline materials.

Fear not, thanks to the creativity and inspiration of the internet: there are more than enough ideas to spark your enthusiasm for repurposing. Pinterest is a great place to start, especially if you're a fan of DIY. Visuals could help you to plan a whole new look for your garden, and you won't have to worry about recycling restrictions.

Any ideas acted upon from this list are completely at your own risk of course, so don't forget to exercise caution and a sprinkling of good sense when bringing your genius to life in your backyard.
Repurpose trampoline mat 
It's fair to say your trampoline mat has the most potential for creativity, out of all the trampoline parts. The wide area and versatility of the mat makes it perfect for upcycling and giving your garden a fresh look.

Here are the best repurposing ideas for trampoline mats:
Elevated Garden: Build a brand-new garden feature using your trampoline mat as an elevated base. You can fill it with potted plants and the hanging variety, mixing colors and plant types for a floating feel. Create a miniature plant paradise that's spacious and low effort to look after.
Floating Seat: The trampoline mat can be used to create a floating tepee-like bed/couch frame. This one is definitely for the more ambitious home improver! This upcycle requires a lot of planning and safety checks to ensure you have enough hold to support the mat, especially once there are people on it.
The internet is full of trampoline repurposing mat ideas - look for inspiration and share your ideas with us!
Repurpose trampoline springs
Offering weight support, these can be used any number of ways to support your backyard creativity - here are a few decorating ideas that spring to mind!
Hanging Plants: Use the springs to help create a hanging plant situation. Placing them against the wall, use them to hang flowers to bring your backyard to life with new colors and scents.
Porch Swing: A more advanced upcycle, if you're a confident and seasoned DIY-er, you can use the springs as a support for a backyard porch swing or hammock. Again, this is one for the pros and requires a lot of care and effort to get right.
Chicken Pen: Re-purpose your trampoline springs as a support for a chicken coop. All you need are your springs along with some chicken wire to secure the area for your mini-home farm. Just don't forget to design a doorway to enter and exit the pen!
Repurpose trampoline frame
You don't need to dispose of your old trampoline frame. It may be used, but with a repurpose recycle, you can transform old trampolines into something the backyard will benefit from.
Greenhouse Frame: Grow your own vegetables and herbs in the safety and protection of a greenhouse using your old trampoline frame. Cover with plastic or metal to keep out unwanted visitors like rodents or birds, and watch your green patch flourish under the trampoline skeleton.
Storage Station: Create a safe space for wood or outdoor equipment using your old trampoline frame as a makeshift shed. Make it visually appealing by sealing off the back with wooden planks, keeping your lumber close-by for winter.
Repurpose trampoline safety net and poles
Your whole trampoline and all the separate parts can be repurposed in different ways, right down to the safety net and poles.
Surrounded Seating: Your trampoline net and poles can create a protected space where you can place a picnic table or outdoor table and chairs inside. Shield yourself and guests from windy conditions and enjoy partial shade in summer with a surround seating area. Note that the poles need to be secured to the ground.
Movie Screen: Use your poles and enclosure net as a backdrop for movies by projector. If necessary, hang a sheet to make the moving images clearer, and settle in for many movie nights to remember.
Climbing Flower Trellis: Decide on where you'd like to tend to your 'trellis', and secure the poles and netting in place. Enjoy the freedom to create a climbing, contained space for your flowers to grow.
Consider selling a trampoline
Acon trampolines are designed to be in tip-top condition for decades. With the correct care, TLC and new parts (we offer a 100% spare part guarantee), if necessary - the trampoline will remain as good as a new one for decades to come. However, if for whatever reason you don't need it anymore, you may be considering selling it.

Luckily if this is the case, Acon's trampolines tend to hold their value if they've been well-maintained. Before you think about putting your trampoline up for sale, however, why not check out our article on trampoline care and maintenance? We want to make sure you get the best price for our premium quality trampoline if you decide to sell.
Recycling a trampoline - Frequently asked questions
How do I get rid of an old trampoline? 
There are several ways to recycle a trampoline. Begin by dismantling the trampoline, part by part. Afterward, call your local recycling center to confirm which parts are recyclable. If some aren't, they may be suitable for the scrapyard – depending on the material. However, you can also consider selling.

Can you sell an old trampoline? 
Yes, depending on the condition of your trampoline you may wish to sell. This is particularly true if you're the owner of an Acon trampoline, as Acon take pride in creating premium quality products that are made to last. You may want to give your trampoline any required maintenance before creating a public notice, whether online or otherwise, so you can agree on a fair price.

What can I do with old trampoline springs? 
Trampoline springs are versatile and can be used for hanging plants, to secure a chicken coop or protective netting around flower beds/herb gardens/vegetable patches to offer protection from rodents or other animals, as well as being used to secure other backyard fixtures like hammocks or porch swings.

What metal is a trampoline frame made of? 
The material used to make the trampoline frame varies greatly. A trampoline frame that is made of galvanised steel, like Acon's trampolines, are corrosive resistant. This is what protects your frame from rusting and gives the frame the strength to withstand strong weather. This steel can usually be recycled or else taken to the scrapyard.