When you've decided to purchase a trampoline for the family you may be having trouble deciding whether to go for a round or rectangular trampoline – it can be quite confusing!
Both shapes have their own characteristics and features. There are several aspects to consider before you plan, such as how you're planning on using it, the bounce capacity, any limits on weight, the space you have available to site the trampoline, your budget and, of course, safety.
So, to give you a helping hand in making your decision, we've set out a comparison between round vs rectangular trampolines, demonstrating the features and benefits of each shape.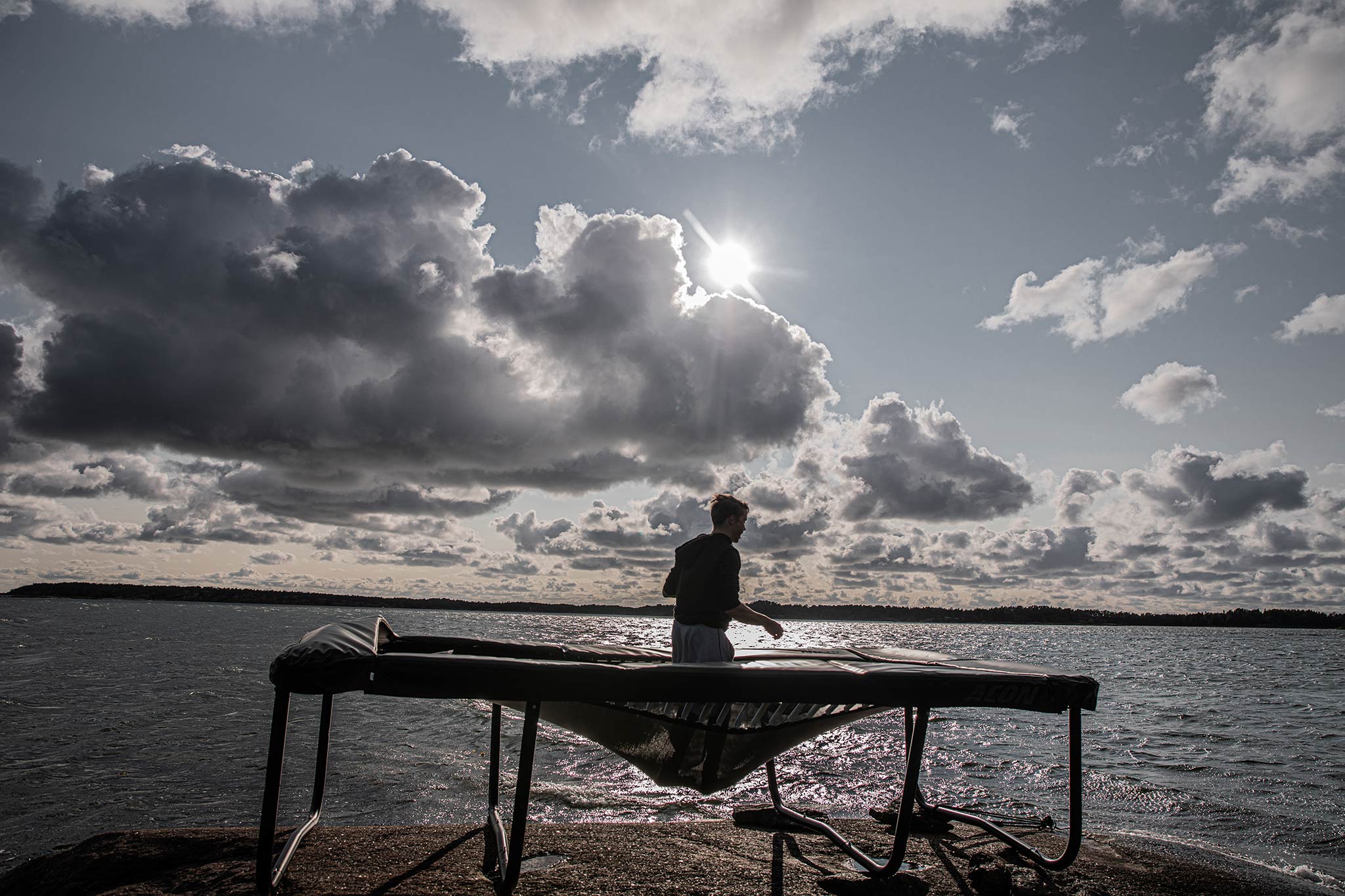 Features of a rectangular trampoline
Bouncing on a trampoline can give you that amazing feeling of freedom, excitement, joy and laughter all at the same time. It is a great family activity, or fun time with friends and a brilliant way to keep fit and healthy. Just about any age group can get jumping but a rectangular trampoline can provide a bigger challenge for kids and adults that want to learn more tricks and push their skills to a higher level.
There is no right or wrong to choosing a trampoline; it is principally down to several factors that suit your circumstances, your garden or backyard, who's going to be using it and the space you have available. That said, depending on how you will be using it does have an impact on whether you choose a round or a rectangular trampoline.
Overall, a rectangular trampoline is more beneficial for people who want more space to do their tricks, like advanced trampolinists or families who want room to explore.
If you're not sure which size or shape of trampoline will suit your use needs and garden or backyard, ACON's "Find Your Size" guide will help you.
The bounce on a rectangular trampoline
One of the key factors when comparing a rectangular trampoline with a round one is the bounce performance.
One part of it is how the springs operate. For example, the springs on ACON's rectangular trampolines work independently from each other, which will mean that wherever your jump on the mat the height you achieve will be the same.
So, with a rectangular shape it's not quite so important where you jump as the bounce will be similar and more even. On a round trampoline, users must jump in the middle to gain the maximum jump performance. If jumping elsewhere, the bounce won't be as high or powerful.
Where and why a rectangular trampoline?
How you want to use the trampoline is perhaps the biggest deciding factor in which shape you choose. Acon round models range between 6ft and 15ft in size. While there's no exact science behind the choice, we've certainly seen some trends in how performers and families make their decisions. Aerialists that are into stunts and tricksters prefer the larger rectangular trampolines. They're also perfect for families with young children to have fun. That sweet spot seems to be kids around 10-12 or teenagers looking to get into stunts and tricks.
And guess what? We've also found that Acon families whose parents like to get up and jump also prefer this size as well. In addition, because a rectangular trampoline has a much bigger surface area, and gives jumpers the highest bounce, it is favored by gymnasts, divers, snow-sport and parkour athletes and trampolining specialists.
However, they are bigger and take up more space. Which means if you do have a backyard that is limited for space, you may find that a round trampoline is the better option. If space is a factor in deciding which shape and size to opt for, we've designed our new flagship Acon Air 13 Sport HD rectangular trampoline specifically for small backyards and gardens. You can now get almost all the characteristics and features of a rectangular trampoline in a size that suits just about any backyard.
Rectangular HD Trampoline's ladder, Quiet SafeZone skirt and double mesh enclosure
How safe are rectangular trampolines?
Safety is of paramount importance, be it a rectangular or round shape. ACON's equipment has been designed with a plethora of safety features. Depending on the model, you'll find premium double mesh enclosure nets without a zipper, cushioning on the poles, a Quiet SafeZone skirt (only for 13 HD model) which cover that reaches over the springs for more protection, and sturdy ladders to make entry onto the trampoline safer.
And remember, Acon is safely designed for one user at a time, with virtually no single user weight limit (rectangular trampolines tested up to 800 pounds).
Why choose a rectangular trampoline?
Every fan or family searching for a trampoline has a unique circumstance to determine what's really right for you. Whether you're thinking about size or shape or safety, here is a quick list of things to consider when weighing whether to buy a rectangular trampoline or a round:
Material – most trampoline mats are made using polyethylene or woven nylon. The higher quality of the material, the more you will need to pay. ACON's Air trampoline mats are made of high-quality polypropylene material that is cross-sewn with 8-10 row stitching – this adds to the top class durability of ACON's mats – as well as being UV-treated to ensure longevity and all-year-round use.
Shape – generally, rectangular trampolines are more expensive due to a heavier frame that requires extra support, i.e. along the center struts, and they cover a greater surface area.
Size – quite simply, the bigger the trampoline, the more it is going to cost.
Opting for the bigger size initially will avoid the possibility of wanting to upgrade to a larger one at a later date, which sometimes happens if you purchase one that is too small for your activities.
Age – the good news is that it is possible to buy second-hand trampolines as well as new ones. With a second-hand trampoline, you could be compromising on safety and longevity, so it is better to invest in a new one. ACON trampolines are designed and built to last for a lifetime and spare parts, like safety pads, replacement mats and springs for round and rectangular trampoline shapes, are always available. By giving some TLC to your ACON every now and then will lengthen the lifespan of the trampoline greatly.
ACON's new Air trampolines are the next generation in sleek style and performance. Their novel dynamic X-Series springs elevate your bounce to even higher levels. TheAcon Air 16 Sport HDand Acon Air 13 Sport HD are elegantly styled in a contemporary two-tone color with attractive design details. The new reinforced, heavy-duty frame ensures the best durability and safety plus there is no single user weight limit.
Which rectangular trampoline size is suitable for you?
Which size you choose has a direct bearing on the space you have available for the trampoline. Where you place the trampoline also makes a difference; a rectangular trampoline will fit more easily into a corner of the garden that is not in direct view of the house. However, we do recommend allowing a 6.5 foot gap around the trampoline for safety reasons.
By considering the shape of your garden, you will be able to select a shape of trampoline that benefits the aesthetics of the garden. For example, a rectangular trampoline would match well with a square garden and a round trampoline with a round garden.
There is also the consideration of frame strength. At ACON, both our round and rectangular trampoline models are made from galvanized steel. Not only does this make the trampoline sturdier, but it is also resistant to rust from outdoor weather elements. On some models, the galvanized steel is powder-coated, adding greater protection against frame degradation. Which is why all Acon frames come with an extended warranty.
It's good to make sure the materials of your trampoline are made to endure weather conditions since even with regular use, materials not made for outdoor use could result in greater damage. The heavy duty trampoline frames at ACON are designed to stay in place even in strong winds. Furthermore, additional anchors for the trampoline can be added for extra safety.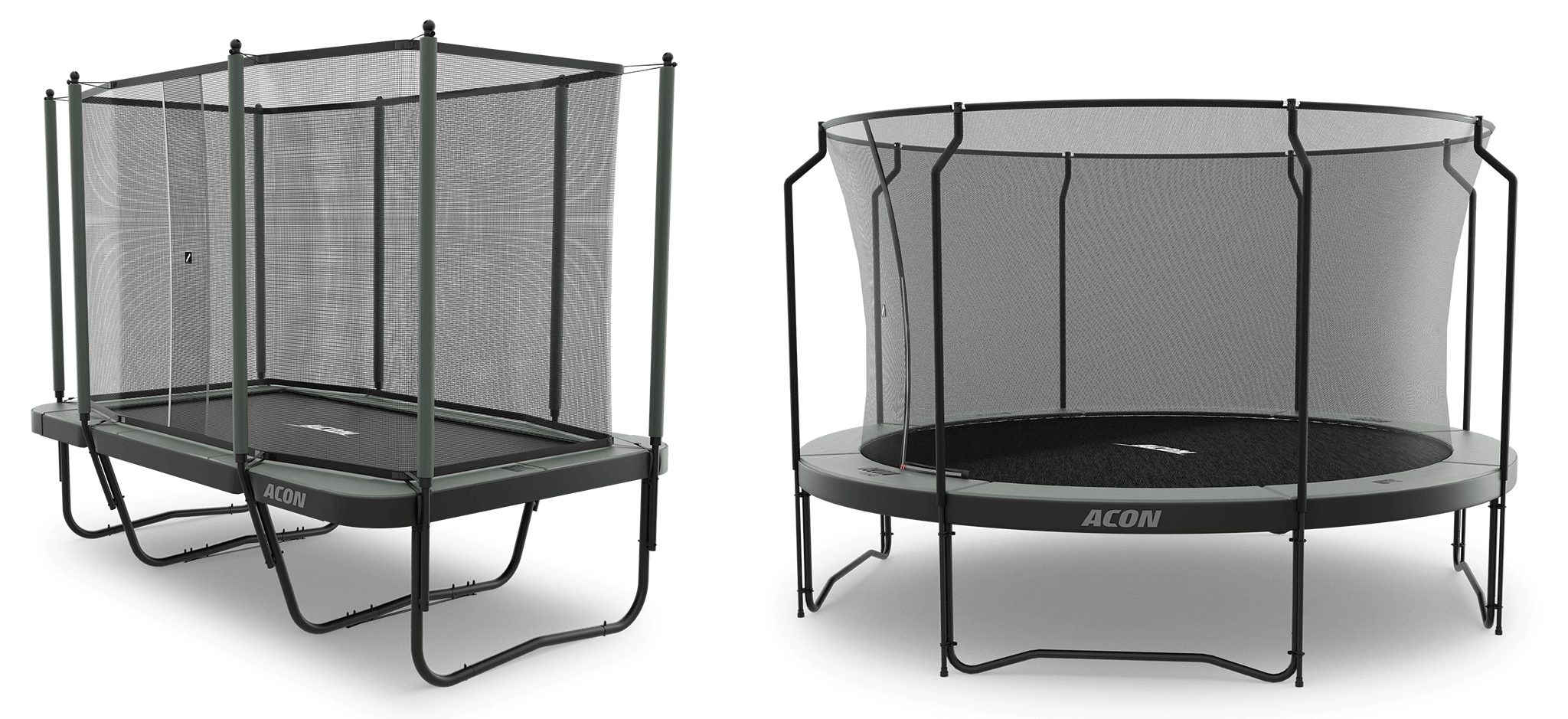 Rectangular 13 Sport HD trampoline and round 14ft trampoline with enclosures
A rectangular trampoline vs a round trampoline
There are advantages and disadvantages to both shapes of trampoline. Round ones are considered the traditional classical shape whereas rectangular trampolines are more modern, as well as being more synonymous with gymnastics due to their bounce performance and shape.
How you are going to use the trampoline is a major consideration. Rectangular trampolines provide equal bounce wherever you are on the mat. While round trampolines give you the best lift from its center, because their springs work at the same time. This effect also draws jumpers back to the center as well. Keeping the bouncer in the middle of the mat is a simple, subtle safety feature good for smaller leapers.
If you are new to trampolining or have younger children, we advise looking to any of our models that feature a high-quality enclosure as they have added innovations like attaching to the trampoline mat inside the springs, which makes for safer jumping.
However, if the jumper wants to learn how to do a plethora of tricks and flips, not only is the greater surface area of a rectangular trampoline more beneficial, but it also isn't so important where the jumper is located on the mat as the springs work independently of each other. So, wherever you jump from will create the same powerful, high bounce.
5 tips - round vs rectangular trampoline
Shape - round ones are considered the traditional classical shape whereas rectangular trampolines are more modern, as well as being more synonymous with gymnastics due to their bounce performance and shape.
Use - how you are going to use the trampoline is a major consideration. If it is for keeping fit or performing single tricks and you are looking for the bounce in the center of the mat – because the springs work at the same time, the jumper is drawn back into the center – a round trampoline is going to be a better option. However, a rectangular one will provide a better, more even and higher bounce quality and is more suitable for families with older children and teenagers, as well as people who want to practice and perform combination jumps, stunts, flips and tricks.
Weight limit - Acon is safely designed for one user at a time, with virtually no single user weight limit (tested up to 800 pounds for our ACON Air 12ft, 14ft, 15ft, 13&16 Sport HD models).
Location – the size of your backyard or garden will have a great impact on the shape and size of the trampoline you choose. In addition, how your backyard or garden is shaped will make a difference. For example, if you want to put the trampoline in a corner, a rectangular shape is a better option but if the sides are more curvy, a round shape will be more suitable for the area.
Accessories/spare parts – you may want to add extra safety pads, a safety net or a ladder to your trampoline so, ensure that accessories are easily available. The same applies with spare parts. With the purchase of any Acon, you should read and follow the important tips we offer for seasonal maintenance to keep your Acon working well.
At ACON, we have a wide range of rectangular and round trampolines in different sizes to suit everyone's requirements. Not sure which size or shape you will need? ACON's "Find Your Size" guide will help you work out which type of trampoline you will need, where to put it, how to set it up and care for it.